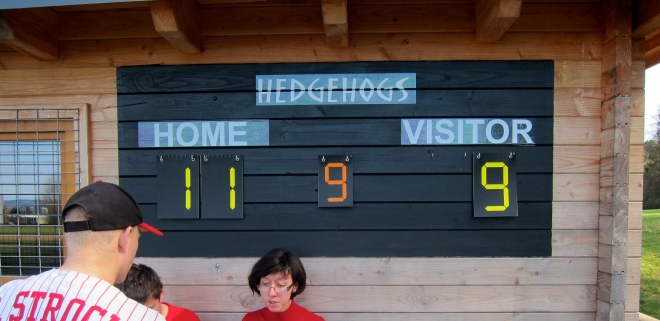 8th inning rally wins it for the Sappers in season opener!
The Red Sappers win the season opener with an 8th inning rally. Down 7-9 at the bottom of the 8th, the Red Sappers hitters came up big, Sanchez started it with a double, pinch hitter Kirsch singled to right field, Sanchez scored on a wild pitch, Strock D. followed with a single, Pena with a single as well scoring Kirsch, then later in the inning with two down Fermin R. knocked in Strock D. and Pena making it 11-9.



The Red Sappers wouldn't concede any runs at the top of the 9th, Strock D. earning his first career save.



The game was very tight, Strock C. pitched 3 innings and allowed 5 runs. Schneider followed with two scoreless innings before allowing 4 runs at the top of the 6th inning forcing manager Strock to make the pitching change to Pena who came up big for the Red Sappers pitching 3 scoreless innings.



The spirit of the team was once again proven by never giving up. A game has 9 innings and it's only over after the last out.



Next up: Friday RS2 vs Bk 1 7pm, Sunday: RS 1 @ Bous 2pm

Go Sapp's Go!!