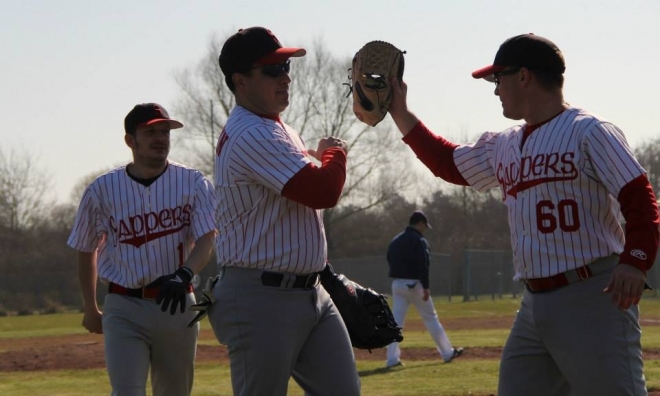 Baseball is back!




Baseball is back as the red sappers played their first exhibition game of the season in metz againts metz and dijon.



They played on a very sunny day against metz to begin the day and lost 6-3. Cometz starting pitcher Aubry allowed few hits and was consistent from the beginning. Red sappers starting pitcher was Strock C, who pitched well and showed definite improvement from last year, pitching well, consistently throwing strikes as he wound up allowing 5 runs over 3 and 2/3rds of an inning... Maricak replaced him and allowed 1 run over 1 and 1/3rd of inning... The red sappers lineup was in its winter sleep striking out 10 times and mustering only 5 hits!



In the second game of the day, it was Godoy starting for the red sappers against dijon, helping them win 9-7. He proved right away that he is a great addition to this team, as he allowed no runs over 5 innings, allowing only 3 hits while striking out 5. His pitching count was excellent, as he threw 46 strikes out of 76 pitches! He was relieved in the 6th inning by nickels who allowed 7 runs.

The red sappers lineup would also wake up and record 8 hits while striking out 4 times scoring 9 runs over 6 innings.



Today Godoy, Marques, Tanios, Lamour, Maricak M had their debut with the red sappers! We hope they enjoyed it and we warmly welcome them to the team!



Next up: tournament in luneville on march 15th and 16th!