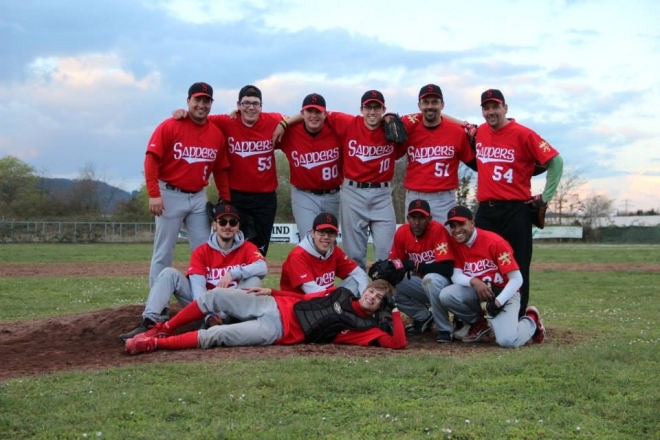 Big Sunday for the Sappers!
In their third straight weekend of exhibition play, and under very nice spring weather conditions, the Red Sappers took on the Cometz of Metz in their first game, and finished their day by playing the hosts, the Cardinals of Trier.



In game one, starting pitcher Charel Strock started off well, allowing no runs in the first 2 innings, despite giving up 2 walks in each of them, thanks in part to some solid defense by the Red Sappers, ending the first inning in a perfectly executed 6-4-3 double play by Nickels/Maricak M./Fermin, and keeping the Cometz from scoring in the 2nd inning by nabbing a runner at home plate.

On the offensive side, the Red Sappers mustered 2 runs in the first inning, thanks to a lead-off walk by Rodrigues M., who advanced to 3rd with the help of a couple of passed balls, an rbi single by Nickels, who would follow up by stealing 2nd and 3rd, and dashing home on a heads-up play after a brief lack of attention by the opposing shortstop following a lineout by Strock C. After 2 innings, the Red Sappers held a 2-0 lead.

However, Strock C. and batterymate Maricak A. ran into trouble in the 3rd inning, registering 6 walks, a couple of hits and a bunch of wild pitches/passed balls, which allowed the Cometz to score 5 runs and contributed in running up Charel's pitch count. The score at that point in the game was 5-2 Cometz. Substitute manager Fermin decided to pull the plug on Strock's mound duties after 2 outs in the 3rd, calling on catcher Alen Maricak to finish off the game, as Strock C.would replace the new pitcher behind the dish. He would quickly induce an inning-ending groundout.

In the bottom of the 3rd inning, the Red Sappers would score 8 more runs, drawing lots of walks, and then scoring through key hits from core players, such as 2 2-Rbi singles by Fermin R. and Maricak M. as well as an rbi single through the left infield hole by our young rookie Marques Pit.

The Cometz would score 2 more meaningless runs in the top of 4th off Maricak A.

In a very gentlemen-like gesture from Cometz coach Pierre Cézard, they would allow the Red Sappers to bat in the bottom of the 4th despite them leading 10-7, which allowed interim manager Fermin to give meaningful at bats to rookies and beginners, since the unlimited switch rule was in effect for these exhibitions games.



In game 2, under a beautiful sunny sky, the Red Sappers would face off against the hosts and former Landesliga opponent Trier Cardinals.

Taking the mound for the Red Sappers is 2011 Rookie of the Year and hero of the 2013 Finals Fernando Pena, who would deliver a masterful performance, pitching all 7 innings, totaling 8 "poonchos" and allowing no walks (!), 3 hits and only 2 error-induced unearned runs. Fernando established his dominance early on, setting the tone with his precision and inducing missed swings, resulting in 2 perfect and identical innings to start off the game, recording twice a K/groundout/K inning. He would continue pitching just as effectively throughout the game, never letting the Cardinals get into any sort of rhythm at the plate, and eliminating all hope of a big inning that might've brought them back into the game.

Offensively, the Red Sappers showed the same one-sided dominance, scoring 15 total runs, and getting at least one point on the scoreboard in each inning except for the 5th. Contributions came from all players, with the "veteran" and core players leading the way: Rodrigues M. hit 2 consecutive rbi singles and scoring twice, Pena F. hit an Rbi double and came around to score, Fermin R. reached base 4 times, getting 2 rbi base hits along the way and scoring twice, and Nickels hit a double, 2 triples and scoring 4 times.

At the end of the 7 innings, the Red Sappers would be the well-deserved victors of this clash, with the final score of 15-2 aptly reflecting the dominance and control that the Red Sappers exerted throughout this game.

All in all, this exhibition Sunday could not have gone any better for the Red Sappers, winning both games respectively 10-7 and 15-2, and showing great improvements from last week's mediocre performance at the Luneville tournament.

The Red Sappers showed great pitching, very solid defense, collecting one double play, getting 2 outs at home on infield grounders, getting one baserunner out on a perfectly executed relay from the outfield and fielding cleanly all day long. The bats woke up from their deep winter sleep, clicking on all cylinders early on, and with the hitters showing great patience and being selective at the plate.

Other positives come from our rookies and beginners (Pit, Zhi Kin, Chris), who got the opportunity to play at least 4-5 innings in the field and getting 3-4 at bats against live pitching, an experience that will hopefully help them greatly in future games.

Congratulations to Pit for his first hit (single)and RBI, to Zhi Kin for his first hit (infield single), and Millan for his first hit (single) and RBI's (2). Keep it up Boys! Very good catching from Charel in the 2nd game, coming up with a few very difficult blocks and great awareness in the field, which is a very good sign with our main catcher and out for the season (Strock D. ).

Finally, a big thank you to the umps of all 3 games, to our opponents for a great Sunday filled with baseball and fun, and to Rita, for taking countless great pictures and always supporting us at our games, so thank you all !

3, 2, 1 Go Sappers Go !!!