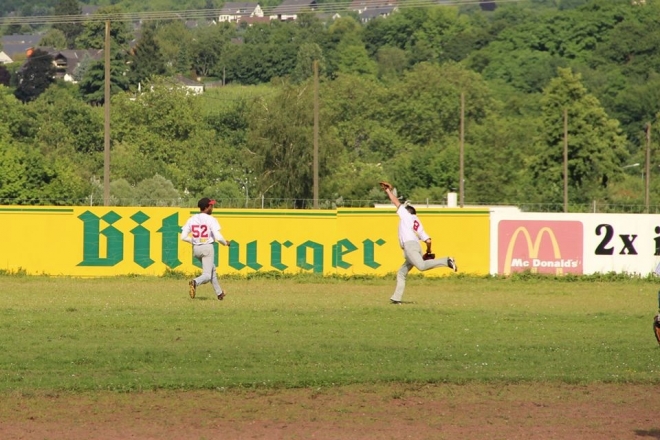 BIG WIN IN TRIER!




The Sappers win their 7th straight in the german championship and remain unbeaten! They are in good pace to win the division since they have a 7-0 record and there are only 3 games remaining which will be played in september!



They beat their toughest opponent in this division for the second time of the year.

The game started really well for the sappers as they scored 5 runs in the first inning and nickels pitched a scoreless inning including 2 strikeouts. But after that inning he ran in to a lot of trouble and after 2 innings the score was tied 7-7.

After 4 innings the score was 9-8 in favor of the sappers making it a nailbiting game!

At the bottom of the 5th with one out and runners at second and third manager Strock decided to change the pitcher and Schneider came up big as he pitched 1.2 scoreless innings.

The score would remain the same until the top of the 8th inning!

At the bottom of the 8th inning with the score 11-8 the cardinals scored one run but it could've been worse for the sappers because the tying run was on second base. Fortunately Pena pitched out of it with 2 strike outs to end the inning.

At the top of the 9th the sappers scored 7 more runs making it a 9 run lead which they wouldn't give up anymore to win by a final of 18-13!

The sappers offensively scored 18 runs and had 18 hits!



Will the sappers celebrate their first title in september?



Next game: Red sappers 2 vs diekirch 7 pm july 3rd in beckerich, red sappers vs beckerich 2 7 pm in beckerich july 5th and double header vs diekirch in beckerich july 7th!



Go Sapps go!!!