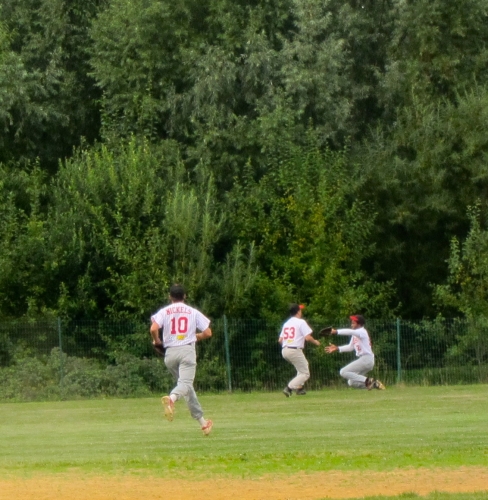 CAMPEONES!!!
The Red Sappers are the 2013 SWBSV LANDESLIGA Champions!

They won 8 straight games this season and have been unbeaten in the german championship! There are 2 games left to play for the Red Sappers and the team would like to finish the season with a perfect record! Since all of their league opponents have lost at least 3 times (out of 10), nobody can catch the Red Sappers!



To become champions they had to win today's game against Lokomotive Bous. Bous was playing well and not easily giving up against the Sappers. In the first inning they scored 3 runs on several defensive miscues. But at the bottom of the inning the Sappers would answer with a 3 run home run by Strock D. to tie the game.

At the top of the 2nd inning Bous would add one run but at the bottom of the inning the sappers added 4 runs highlighted by a 3 run home run by Nickels.

The game remained very tight with a score of 8-5 for the Sappers after 5 innings. In the bottom of the 6th the sappers added 2 runs and at the bottom of the 7th added 5 runs, Nickels would hit a second home run! After 7 innings the Sappers won due to mercy rule.



Schneider pitched 4 innings while allowing 5 runs and Nickels pitched 3 innings allowing no runs!



The Sappers could finally celebrate their first title of their history and will try to win a second title later this month as they would like to win the luxembourgish championship as well!



Next game: wednesday september 4th vs Diekirch Phoenix 6.30pm in Beckerich!