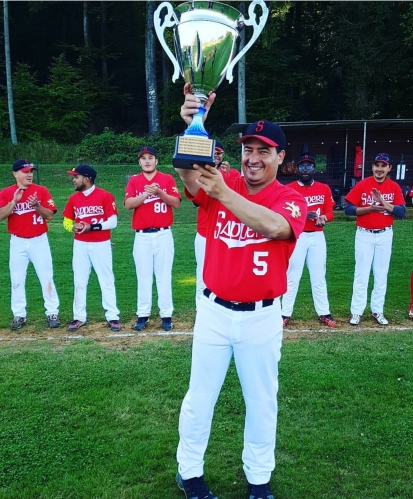 Champions of Luxembourg 2017 - Big Blast in 1st Inning
The Red Sappers Dudelange are again Champions of Luxembourg, for five consecutive years now (2013-2017).



Unfortunately, Romain Schneider, Sports MInister of Luxembourg, wasn't able to come to the finals on last saturday, due to other political liabilities. So, it was the Mayor of Beckerich, who did the ceremonial first pitch, before the Players of the two teams lined up for the National Anthem of Luxembourg.



The final Games were planned to be played over 7 instead of 9 Innings. The first Game began already with a big Blast from the Sappers, as they scored not less than 15 runs, including several Homeruns, in the 1st Inning, Score 15-1. The powerful Play continued to the 2nd Inning, where another 7 runs were made. After the 4th Inning, the first Game was already over, because of the Mercy Rule. The final score was 22-5.



In the second Game, the Sappers seemed to have shot all their wad already in the first Game, but after the 2nd Inning, the score was 3-0 for Dudelange. With 5 runs in the 5th Inning and another 9 runs in the 6th, Beckerich in the meantime was able to make 2 runs for their side. In the last two Innings of the Game, the Sappers made 4 Home Runs. The final score was 17-2 after the second Game and, back home in Dudetown, the Party started .



MVP of the Finals is the Red Sappers Pitcher Juan Godoy, who, beside of his once again sensational Pitching, hit three home runs, including two Grand Slam. He made 9 RBI overall for the Sappers. Congratulations for this big achievement!



The last Game of the 2017 Season will take place at the Römerfeld in Trier (Diedenhofener Str.) on sunday, the 1st October against the Trier Cardinals. Play Ball is 1 P.M.