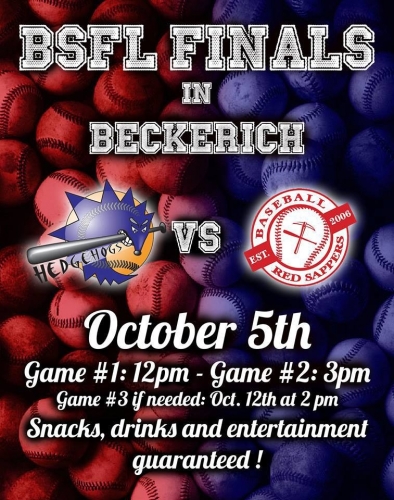 FINALS PREVIEW
The 2013 season will conclude in a few weeks and the Red Sappers are ready to make sure that they will finish the season with a bang.



The Sappers will face the Beckerich Hedgehogs this saturday (05.10) in Beckerich (Jos Seyler Stross). This 3 game series will start with a double header at noon and if necessary a third game will be played on October 12th at 2pm.



So far this season has been a huge improvement compared to last year. The Sappers finished first in the SWBSV Landesliga with 9 wins and one loss and probably will play in the SWBSV Verbandsliga next year. Last year they finished in 4th place out of 5.

In the luxembourgish championship the Red Sappers finished first at the end of the regular season just losing one game against Beckerich. Which means that the Sappers have won 14 games this year and only lost 2.



Manager Strock will be able to count on his pillars in his lineup which are Nickels, Pena and Fermin R. "Those 3 have played a great season and will play a very important role in this series. We have to focus on our game and be patient in order to beat a tough opponent. Our strength is offense so we hope that we can get to the opposing pitcher fast. Defensively we have to be able to keep them from scoring many runs. We need to be flawless!"



The Hedgehogs will play without last season's MVP Slavazza due to an ACL injury and they lost a few key players but the Sappers know that they will have a very good team and they will be tough to beat. They have two very good pitchers and it'll be a tough opposition from the get go.



Here is what Hedgehogs Manager Slavazza has to say before the Finals:



Francesco Slavazza, as a coach of the Beckerich Hedgehogs, how do you approach this years finals?



- Playing a regular season game against a last place team or playing a finals game against a tough competitor doesn't really change my approach. Changing my approach based on the prize there is at stake would logically mean that my implication in the game would depend on external factors, and that the game of baseball would be more or less worthy of being played the right way depending on who you face and in which conditions. I believe in a certain way to play the game, and there's no competitive circumstance that should compromise it; any game, any opponent, any situation deserves the same respect, and so the same approach. While this being said, you still manage human beings, and they don't react the same way independently from external factors. So it's pretty safe to assume that the games will be more emotional than games that are less meaningful result-wise, and i'm excited and looking forward to guide my guys through this challenge.



What has changed since last years finals and what makes you think that it will be a different finals then the past ones?



- The rosters and the mentalities of both clubs have changed drastically in a year's span. While we dominated last year's finals, this year's regular season games showed clearly an inversion of tendency, especially perceptible during our direct confrontations. Among many factors, the two biggest reside probably in the fact that the Sappers improved a lot their offensive arsenal, and that the Hedgehogs pitching staff that used to dominate was drastically trimmed during the season.





In your opinion will the Hedgehogs be able to defend their title? For what reasons?



- The outcome of the games and the championship is something neither me nor my players can't control, as we are facing –among other factors- an opposing team that won't support us in our intentions. But we can control our application and effort degree, and so put us in a situation that gives us a better chance to win a ballgame. I'm not outcome obsessed, i'm journey oriented. In the past, this focus on the journey has lead to a good share of outcomes in our favour, so my confidence can't fade.



All this said, come on out and support the Sappers this Saturday in Beckerich which will try to win their first BSFL championship!