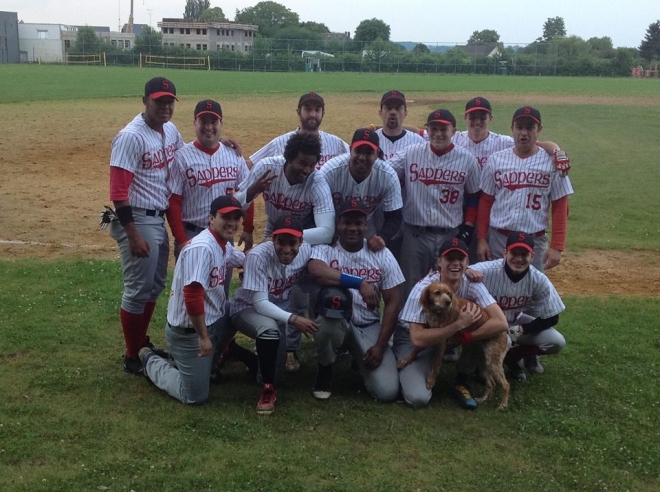 Historical Win!!
Last night the Red Sappers celebrated a historical win against their nemesis the Beckerich Hedgehogs after 5 innings 14-4 due to mercy rule! It was the first time since their creation in 2006 that they beat Beckerich.



This Red Sappers team is playing impressive Baseball as they hit once more 3 Home Runs by 3 different players! Scheulen led the bottom of the third inning off with a home run down the left field line before Nickels and Fermin R. would hit back to back Home Runs in the same inning. It was the 7th consecutive game that Fermin R. hit a Home Run. His streak is really impressive, how far can he go?



The game started well for the Red Sappers as Pena was the starting pitcher of the game who pitched a scoreless first inning.

At the bottom of the inning the Sappers would score 8 runs against Beckerich starting pitcher Lutgen.



After 3 innings the score was 12-4, the Sappers wouldn't give up the lead.



Pena's pitching line: 3H, 2K, 3BB, 4ER, he pitched well and got some defensive help, most notably from Nickels who was playing 3B and on several grounders made the play look easy.



Since the Red Sappers won second leg against Beckerich with a better run difference, it would mean that the Sappers secured Home Field advantage if they would qualify for the finals!



Next game: Red Sappers @ Trier (Diedenhofenerstr.) at 2 PM Sunday 30th June, 7th consecutive win in germany on the line!