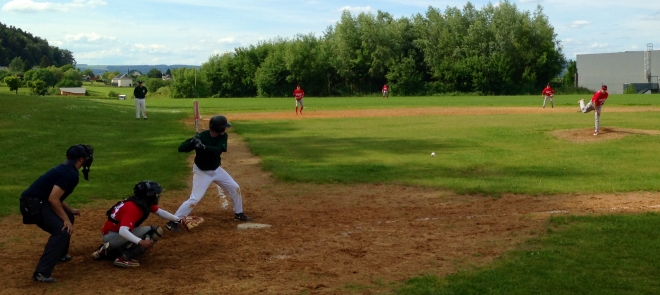 Huge power surge in twin bill win!


The Sappers won both games against the Mainz Athletics (6-5 and 14-5). Mainz Athletics was last years winner of the verbandsliga. Most impressive feat of the afternoon was that the sappers hit 11 home runs in 14 innings of play.



First game was a very tight game which could have gone either way. Godoy started off with a home run in the first inning to put the sappers ahead 1-0. The sappers would add a run in the second inning on a wild pitch. Godoy was the starting pitcher and he ran into trouble in the 3rd inning allowing 4 runs including a 3 run home run giving the athletics a 4-2 advantage. Mainz would add a run at the top of the 5th inning. In the bottom of the same inning the sappers would hit back to back home runs by Fermin J. and Nickels making it a one run game. In the bottom of the 6th inning Strock C. chose a perfect moment to hit his first career home run tying the game at 5. Godoy who's pitch count was very high, would continue to pitch all 7 innings while preserving the tie even though he allowed many base runners. It was a gritty effort!

In the bottom of the 7th inning, pena lead off with a single, scheulen would fly out, godoy would be walked intentionally and Fermin R. flew out to center. Maricak M was at the plate and his single scored Pena from second. The sappers walked off after a tremendous display of team effort and a never die spirit!



Game 2 of the afternoon was a different story. Nickels gave the Sappers 5 innings while allowing 5 runs and Pena pitched the last 2 innings while allowing no runs.

Offensively the home runs came in bunches, Godoy went 5-5 with 3 Home runs including a grand slam. Nickels added 2 home runs, Fermin J. and Fermin R. one each. Final score 14-5!



Manager Strock certainly didn't plan on beating the A's twice but he knew his team would fight and be a competitive opponent which the sappers proved to be.

He hopes that this trend continues next weekend when Speyer will visit them in Beckerich. Playball 12pm!