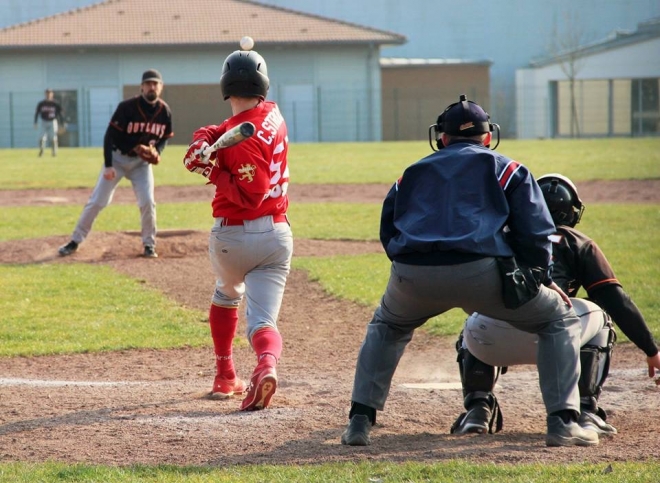 Preseason recap
The Sappers wrapped up their preseason last weekend which was quite satisfying.



They started off with a clinic with cometz on march 8th at the field in dudelange. That day was very good in order to get back outdoors. Players got to work on specifics which was very important. The new batting cage was also used and allows the sappers to improve their practice dramatically.



On march 14th and 15th, the Sappers participated in the annual preseason tournament in Lorraine and were able to win the tournament for the first time, beating Strasbourg in the final.



A week later the Sappers played two games in Metz, one against the reserve team of Metz and one against the reserve team of the Saarlouis Hornets. The Sappers were able to win both games. The first game against Cometz was started by Strock C. His pitching has improved as he was very accurate. Final score 7-6. The second game of the day was played against Saarlouis and a very young pitcher started the game for the Hornets. Nickels started the game for the Sappers and he had a good start. Unfortunately a few errors in the 5th inning allowed the Hornets to tie the game. A walk off hit by Resta would seal the deal for the Sappers. Final score 8-7.



The sappers played one game against the first team of cometz on march 28th. The Sappers defense was very sloppy and obliged Pena to throw more pitches as he should've. Offensively the Sappers were consistent and scored runs in almost every inning. Final score 17-12 in favor of Cometz after 7 innings.



All in all it was a good preseason (7 wins and 2 Losses) for Manager Strock as he thinks that the top of the order is pretty much set in stone but the bottom of the order needs to become more consistent. Pitching shouldn't be much of an issue as the Sappers can work with 4 guys. Defensively there has been some miscues but they will work on fixing them before the start of the season against a very tough team of kaiserslautern on april 18th.

The Sappers thank the Cometz and wish them a good season in their new league.



Go Sappers Go!