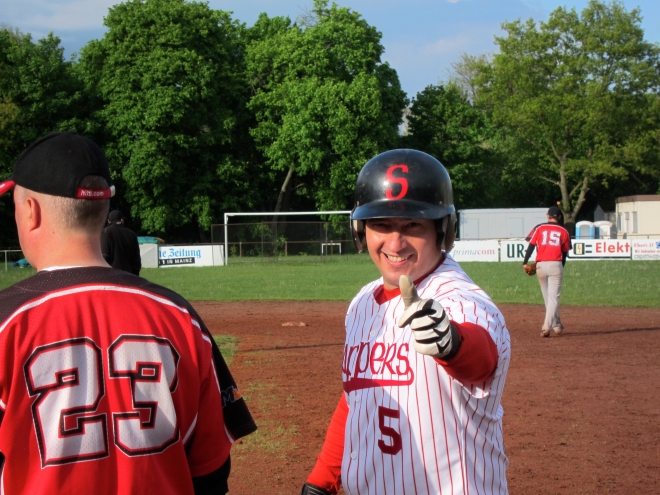 RED SAPPERS KEEP ROLLING!!!
The Red Sappers beat the St Ingbert Devils 24-14 today after 2 rain delays in an 5 hour affair. They remain unbeaten in the SWBSV Landesliga with a record of 5 Wins and no losses!



The Sappers jumped to an early 9-2 lead at the top of the 2nd inning but after Zhaltov hit a grand slam against Strock C at the bottom of the 2nd with no outs which made it a 1 run game. Coach Strock was forces to take him out and put Nickels in as a pitcher who would allow 6 runs over 4 2/3rd innings, 7 hits and 6 strikeouts would be his stat line.

His pitching has improved so much, it is the key of this teams success!



Nonetheless, at the bottom of the 7th inning with the score 22-11, the sappers needed 3 more outs to win by mercy rule but the devils scored 3 runs in that inning which obliged the game continue. With no outs and bases loaded in the bottom of the 7th, Coach Strock finally had to go to his ace Pena for the final 3 innings who wouldn't allow a run!



It was also Pena who had an impressive opposite field home run against Zhaltov at the top of the 9th inning. Fermin R. had his 3rd home run of the season, he has homered in each of the last 3 games!



In this game once again it was the teams effort that was the key, offensivley the red sappers collected 22 hits and defensively they commit very few errors.



Can the Sappers keep rolling??



Next up: Double header vs Beckerich Hedgehogs May 20th at 11 am!