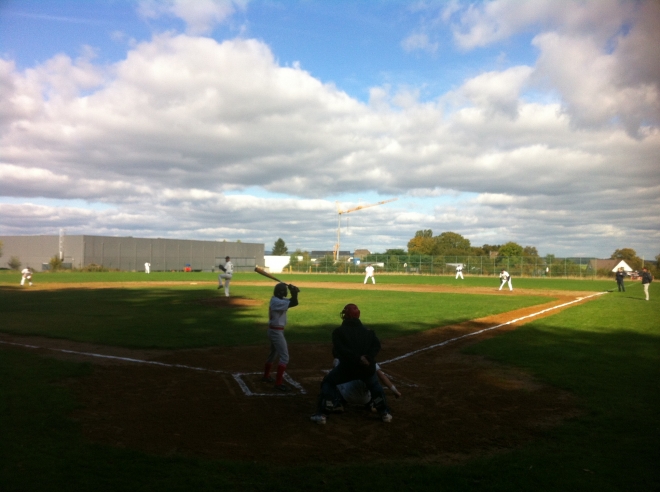 Red Sappers lose finals
In a lopsided series the Red Sappers lost 19-7 in 8 innings on friday night in Dudelange at Stade Jos Nosbaum and lost 17-1 on sunday in beckerich after 4 innings. The Hedgehogs win for the second year in a row vs the Red Sappers in the finals and it is their10th championship in a row!



The Red Sappers never succeeded in these series to rattle the Hedgehogs train. Friday the team which is thankful for all the fans that showed up had a few offensive sparks late in the game but the errors that they made early in the game were to significant. "Sloppy defensive won't win ballgames especially with all the pitchers they have, I think Pena had a good start but the 5th inning was where the game definitely got out of our hands. The worst is the inning started on an error...What I liked is that the team still tried to keep the game alive and scored runs when we needed them to continue the ballgame. Come sunday I expect a better defense." manager Strock said after the game on friday.



But sunday didn't happen as manager Strock expected. MVP Slavazza showed all his dominance in that game, 4 stikeouts over 4 innings. He only allowed one earned run, a home run to Strock, it was Strock first career Home run. "On a full count, i knew i could only pitch down the middle with this umpire and he put a good swing at it and it was gone. I will never deliver this pitch again" Manager Slavazza said later.

It wasn't much to celebrate for the Red Sappers as this would be their lone run of the afternoon.



Manager of the Hedgehogs Slavazza ended the game in the bottom of the 4th with his own big fly, a grand slam in right center... It was a big slap to a Red Sappers season that didn't deserve an ending like this.



"We'll keep working and come back stronger next year" assistant coach Fisch said after the game.



The Red Sappers will move on from this tough loss and proceed to winter practice and come back stronger. More infos about winter practice soon! Anyone interested in joining us, please be welcome at practice!



The whole team says thanks to anyone who helped us through out the season and wants to keep working like this. The great game of baseball has to progress in Luxembourg and the Red Sappers will help doing so!