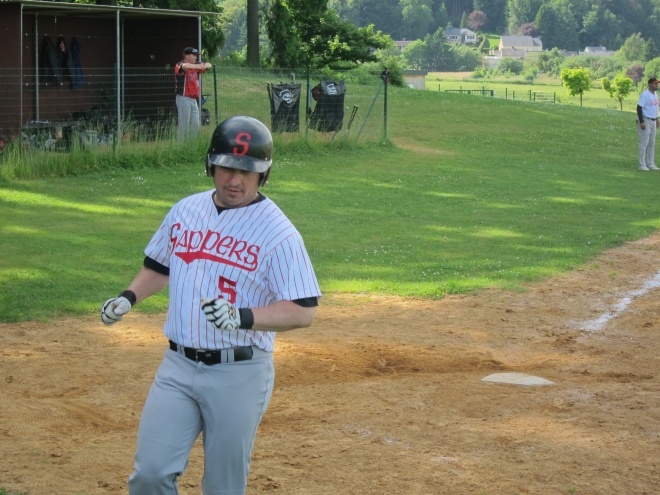 Red Sappers make it 6 in a row!
The Red Sappers won this sunday their 6th game in a row in the german championship and still have yet to lose in Germany this season.

The team displays a tremendous offensive power as 5 different players hit a home run in this game. Nickels, Pena, Valenzuela, Fermin R and Cormona all went deep.

Fermin R. home run was the 6th game in a row where he homered, the longest streak from any player in luxembourgish baseball history... This streak has yet to come to an end. The feat is even more impressive because the devils chose not to pitch to him as they gave him 3 intentional walks and only pitched to him on 3 plate appearances.



The game didn't start so well for the sappers as Nickels had trouble finding the zone. He had runners all over the place but managed to limi the damage. After two innings the Devils were leading 2-0 but at the bottom of the second inning they scored 6 runs highlighting a 3 run bomb from Pena. Trenev pitched well over 3 innings for the Devils as he allowed 6 runs.

Until the top of the 4th inning the game was really close as the devils would lead 8-6 but at the bottom of the 4th the Sappers became unstoppable offensively and recorded hit after hit beating the devils 24-9 after 6 innings due to mercy rule.



The Red Sappers are off next weekend and have a huge game on june 26th against Beckerich at 7pm and on June 30th at 2pm in Trier, a showdown of probably the best two teams in the german league.

Red Sappers 2 have a game this wednesday against Diekirch!

Go Sapp's Go!!