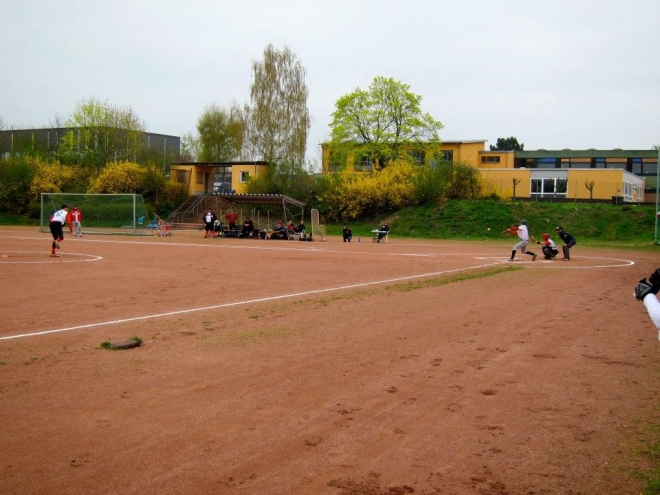 RS WIN LATE AGAIN!
In the second championship game in the German Regional Championship the Red Sappers win it late against Saarlouis Hornets 3/ Lokomotive Bous.



After 6 innings the game was tied at 6-6. Pena was about to take the ball to pitch the final 3 innings. All the Red Sappers had to do was to give him a little run support. He would receive just that as the Red Sappers would score 2 runs in the 7th, 5 runs in the 8th and another 4 runs in the 9th. With a 10 run cushion in the bottom of the 9th Bous would score 5 runs, partly due too 3 unearned runs but it was too late to make the Red Sappers falter. Final score was 17-12.



Starting pitcher of the Red Sappers was Nickels who was grinding out a good performance allowing 6 runs over 6 innings. His command wasn't always there but he made key pitches in key moments as well as the Red Sappers defense which made very good plays throughout the game.



At the plate notable performances, Fermin R. went 4-5 with a sacrifice fly and 3 RBI's, Schneider went 4-6 with 2 RBI's, Welfringer 2-2, Alvarez 2-4, Nickels 3-6 with 3 RBI's.



The teams effort was determinant in this game again, receiving important contributions from everybody.



Next game: Sunday 28/4 at 10 am in Beckerich vs Trier Cardinals.