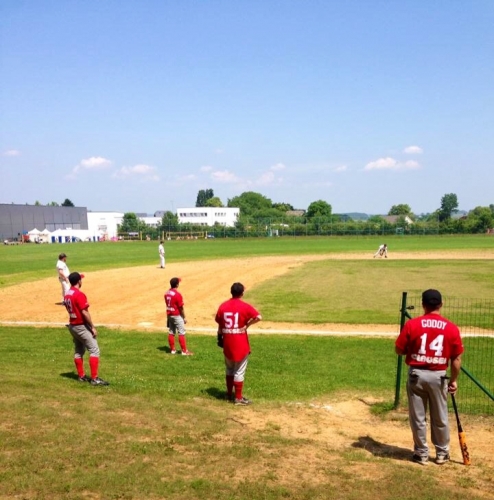 Sappers beat H's in Season opener!
The Sappers defeated the Hedgehogs on mothers day 15-1. On a very warm day the team showed a lot of discipline offensively and defensively made very few mistakes.



Godoy was the starting pitcher for the sappers and he would only allow 2 hits and 1 run over 8 innings. He faced his old team and he wouldn't give the hedgehogs many chances to score.

Offensively the Sappers jumped on an early 6-0 lead in the top of the first inning against Gaudnek, starting pitcher for the H's. Maricak M. hit his first home run of the season and Fermin R. hit a three run home run in the 9th inning. Lamour collected 4 hits on the day, his progression has been tremendous as Fermin R. said: "He has improved a lot because he has been practicing and he has been listening to the advice we have given him, thus his early success! We need more guys like that!" Lamour also made a nice catch on a fly ball by Defeche earlier in the game.

The big story of the game was the dominance by Godoy though, he really has given the Sappers a big lift since joining them in the offseason. "He gives us a lot of flexibility pitching wise, in germany where we play double headers we need at least 3 pitchers and he has helped us tremendously. We started the season well and i hope we can continue this way." said manager Strock.

The team is showing a lot of resilience and they continue to prove that they can compete with anybody. On June 29th the Sappers will face the Kaiserslautern Bears and Manager Strock hopes that the Sappers will be able to play well against them.