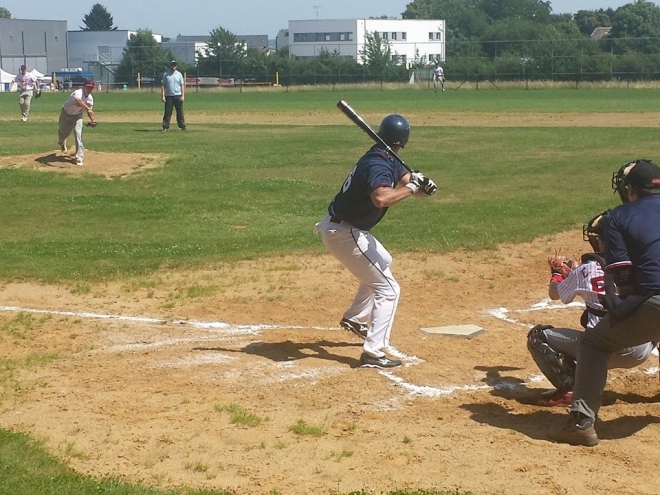 Sappers knocked around by bears! Beat H's in extras!
Sappers knocked around by bears!



It was a busy weekend for the sappers as they played a double header against kaiserslautern on saturday afternoon and a lux championship game against the hedgehogs on sunday.



Unfortunately the sappers had no chance against the bears from kaiserslautern as they only managed to score 3 runs in the first game as well as in the second game. Only 2 hits in the first game and 3 hits in the second game were not enough to frighten the visitors.

The score was 16-0 after 3 1/2 innings and their pitcher was perfect until then. The sappers would show some life in the bottom of the 4th, scoring 3 runs to avoid the mercy rule. But one inning later the bears would extend their lead to 20-3 which ended the game prematurely. In 5 short innings the sappers struck out 10 times while the opposing pitcher faced 20 batters!

The second game was tighter, godoy would pitch very well and he gave the sappers an early 1-0 lead in the bottom of the first with his solo shot! In the top of the second inning torres hit a solo shot of his own to tie the game up. He would do most of the damage throughout the game and hit 2 more home runs against godoy in this game. Final score after 7 innings 8-3. Frightening stat was the 15 strikeouts that the sappers recorded in that second game!



On sunday afternoon the sappers faced their luxembourgish rivals the beckerich hedgehogs and the team was definitely having a hang over from saturday's tough loss... The hedgehogs would take an early lead against starting pitcher strock c. but that lead would melt slowly until the red sappers took a 12-7 lead. But nonetheless the hedgehogs didn't give up and clawed back to tie the game in the top of 9th 12-12. After blowing the lead the sappers had to play extra innings after playing a double header the previous day!

With two on and no outs pena was batting the h's on the mound and kep them at bay! In the bottom of the tenth with runners on second and third and one out strock c. would hit the decisive single to walk his team off! A thrilling game which shouldn't have gone that long but the team didn't give up and kept fighting to get the win!



Next game: red sappers vs beckerich hedgehogs 2 at 2pm on july 27th!