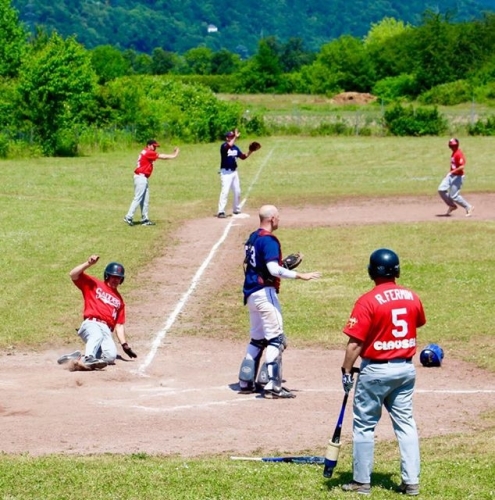 Sappers make noise in the Verbandsliga!
After losing their 6 first confrontations against the Kaiserslautern Bears (over the last 2 seasons), the Sappers finally broke the ice and beat the bears twice 9-6. The Sappers handed Kaiserslautern pitcher Göring his first loss in over 3 years!

It was an impressive performance by the whole team. The Sappers defense was almost flawless and offensively they put a lot of pressure on the bears pitchers.



The Sappers fortified second place in the standings and have a legit chance to take first place saturday in Kaiserslautern in case they win both games. The Sappers have a record of 6-5 and the Bears 8-4. Yet anything is still possible in the Verbandsliga.Manager Strock knows it's going to be tough to beat the bears twice again. "These games get decided by small things and in this league anybody can beat anybody. We are glad that we made the title defense tougher for the bears. We didn't want them to take the title as easily as they did last year."



Manager Strock took a gamble in starting Pena in the first game against Göring and it paid off. Pena pitched well and never gave up the lead the Sappers gave him. The bears rallied twice but the Sappers could always avoid the big innings.

This meant that Godoy was pitching the second game. He pitched very well and managed to get through 7 innings while allowing 6 runs. Offensively Nickels had a very good day. He was 6-8 with a double and 2 triples. Godoy added 2 hits, Fermin R. 4 and Fermin J. 5 on the day.



The Sappers have an important week coming up, playing Thursday against Beckerich 2 and on Saturday another doubleheader in Kaiserslautern.