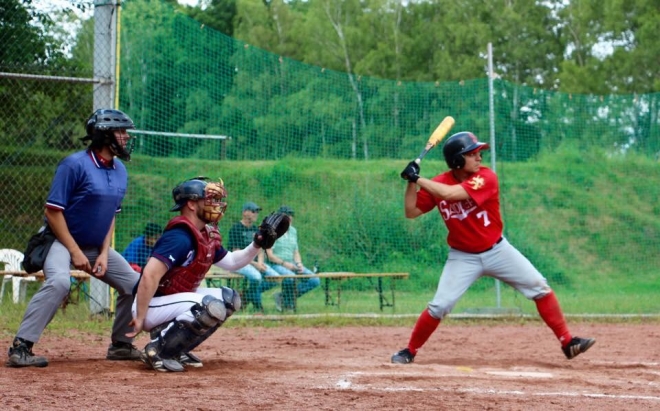 Sappers title hopes slip away in k-town!
With 4 games to play the kaiserslautern bears are just two wins away from clinching another championship in the Verbandsliga. The Sappers lost both games in kaiserslautern making it almost impossible for the sappers to catch the bears. The bears record now is 10-4 with 4 to play and the sappers are 6-7 with 5 to play. The mainz athletics are 5-6 and have 7 to play and could mathematically still catch the bears. The Sappers now need to focus on defending second place in the standings. "Out of the 4 teams in this league trier, mainz and dudelange are going to fight to stay in this league. The level of the 4 teams is very close which gives us tough games! We definitely wanna stay out of 4th place and we want to defend second place." According to manager Strock.



Lets get back on the doubleheader in k-town.

Game 1 was a rematch of the previous week where Pena faced Göring. Göring took a no hitter and a 6 run lead in to the 6th inning. The sappers showed a little life in that inning and Godoy broke up the no hitter with a single and Strock D would get him home on another single for the lone run the sappers could muster in that game. Final score 6-1.



Game 2 was a lot tighter and the Sappers were able to score two quick runs in the top of the first inning. But after that Göring who also started game 2 for the bears kept the sappers from scoring until the top of the 6th inning. With the score being 4-2, Godoy and Fermin reached base and Strock D got Godoy to score on another basehit to make it 4-3. That hit chased Göring after pitching 12 2/3 innings. Relieving Göring was Bilskemper. After a wild pitch and with runners on second and third, Gomes got Fermin home with a sac fly to tie the ball game. Unfortunately after a fielders choice and a fly out the rally ended. In the bottom of the 6th inning, Begley decided the game for the bears yanking a 3-2 curve ball over the right field fence for a solo home run giving the bears a 5-4 advantage. In the top of the 7th inning, Bilskemper was able to close it out with runners on first and second and two outs, Fermin popped up to the first basemen to end the game.

Both games were very tight especially the second game but unfortunately the outcome was not as good as the week before. The sappers now have to be ready to face the cardinals in trier on sunday.