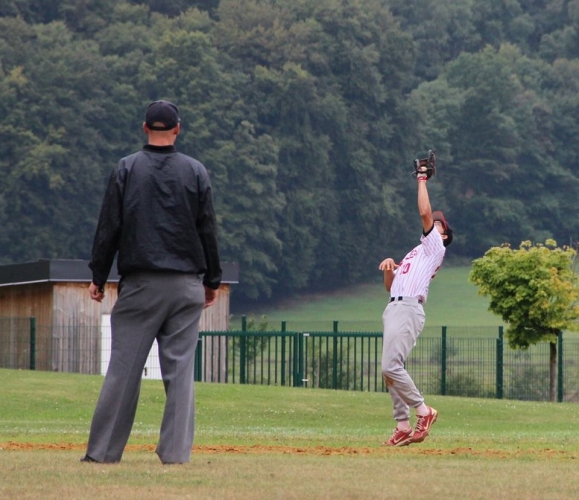 Sappers win twin bill!
The Sappers had a double header vs Diekirch Phoenix last saturday, one game was for the german championship and the other one for the luxembourgish championship.



The Sappers won both games 25-9 and 15-0. The Sappers sweep Phoenix on the season (4-0 GER AND LUX combined). The Sappers remain unbeaten in germany and if they win their last game next sunday in saarlouis will finish a perfect 10-0 season.

The Sappers started the first game strong offensively but defensively made to many mistakes again behind Schneider starting pitcher of the day. He pitchted 2 innings allowing 9 runs. He was relieved by Fermin R. at the bottom of the third inning with no outs, he would allow no runs over 3 innings. At the top of the 5th inning, with the score at 10-9 in favor of the sappers they decided to put in another gear and would score a scorching 15 runs on the inning including one Home run by Fermin R and one Home run by Fermin J (his first of the season). The Sappers won game 1 after 5 innings due to mercy rule.



Coach Strock kept his best pitchers for the second game as it was more important to win that game since it would determine who would participate in this years BSFL finals. Nickels was the starting pitcher of that game and pitched a no hitter over 4 innings. His pitching line 4 walks, no runs and 7 strike outs. His team mates gave him enough run support as the game ended to mercy rule after 4 innings 15-0.



The Sappers finish the regular season in first place and got home field advantage for the finals. Whether they chose to play their home game in Dudelange or in Beckerich it will be decided this week. Nevertheless the dates for the finals are set, October 5th and October 12th. We hope to see you to support our team throughout the finals! More details soon!



Next game: Sunday September 15th at 2 pm @ Saarlouis Hornets!