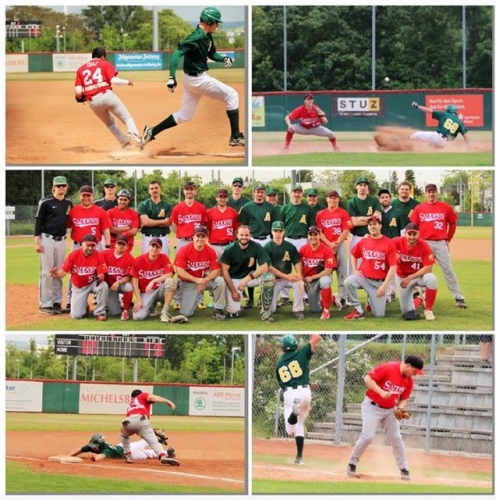 Split in Mainz!
The Sappers split another doubleheader, this time against Mainz with a 9-5 loss and a 12-1 win.

After taking a split against Trier it becomes more and more obvious that all 4 teams are at the same level. This means that the games get decided by small things and anyone could beat anyone. The Sappers need to be flawless in order to take two games, which wasn't the case in game 1.



Game 1:



Pena was the starting pitcher for the sappers and he pitched very well. The Sappers gave him a 5-1 lead in the top of the 5th inning but the A's scored 2 in the bottom of the 5th to make it 5-3. In the bottom of the 6th inning, a few hits by the A's and a couple of defensive errors allowed them to score 6 runs and come from behind for the win.



Game 2:



How different can be one game from the other? Well the difference was huge. The team showed that they didn't want to go home empty handed after driving quite far (2h drive). Godoy pitched a 2 hitter, only allowing one run while striking out 9 and facing only 23 batters in 7 innings! The Sappers put constant pressure on the A's defence and collect 12 hits. Final score 12-1.





Next up: Thursday night opening day of the luxembourg championship. Red Sappers @Beckerich hedgehogs 2 at 7pm.