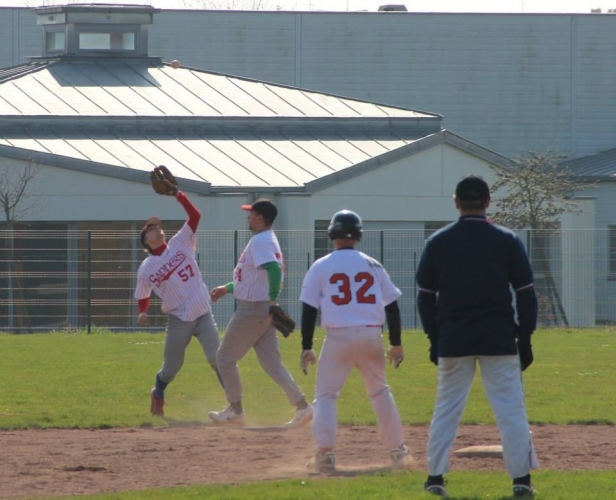 Tournament in Lunéville!
The Red Sappers played their second spring training game of the young 2014 season over the weekend. In the end the tournament was very good but the results were not so satisfying. In 4 games the Red Sappers just managed to win 1 game. They beat Lunéville (9-1), lost against Argancy (7-5), Metz (2-0) and Strasbourg (12-3). Manager Strock knows that it's early in the season and these games are just there to prepare the season.



In game 1 against Lunéville Maricak A. was pitching. He had 80 pitches in 5 innings, being very accurate throwing 53 for strikes while fanning 7 batters and allowing 6 hits with no walks. The sappers offense mustered 11 hits and scored 9 runs.



Against Argancy Godoy was pitching and he had a good outing but in each inning the leadoff batter reached base and would eventually score. Manager Strock insisted that it's very important to get the first batter leaving the bases empty and starting the inning well. He had 98 pitches, 58 strikes, striking out 6, walking 5 and allowing 3 hits. The bats really cooled down in this game although they managed 5 runs and 11 hits. The team got closer and closer each inning but it wouldn't be enough.





On Sunday afternoon against Cometz and the Outlaws from Strasbourg it was a different story, the bats really cooled off and had just 1 hit and no runs against Cometz, wasting a good pitching outing by Nickels (35 strikes out of 61 pitches). Final score 2-0. It was a close game in which at any moment the score could have turned one way or the other. For example in the third inning with the score 1-0, the Sappers had runners on 2nd and 3rd with two outs, Fermin R. struck out.. If he would have had a hit the sappers would have taken the lead.

Same story against the Outlaws, no runs were scored until the 3rd inning by the sappers but the 12 run lead by the Outlaws was too big which ruined all hopes for a comeback. On a positive note Pena (70 pitches, 41 strikes) was able to pitch 3 innings after his shoulder injury which gives Manager Strock hopes for him to be ready for the season.



Over the weekend it was the first steps for Maricak M, Dickes and Guzman with the Red Sappers. We welcome them!



Next up: Exhibition game in Trier vs Cardinals and Cometz on March 23rd!