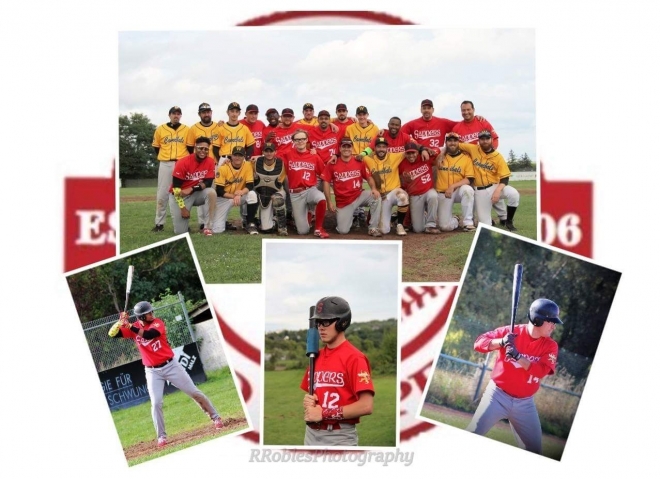 Walk-Off: Red Sappers win against Cannibals
On saturday 9th september, the Red Sappers faced the Worms Cannibals on the Baseball field in Trier (D) in the Verbandsliga Südwest (SWBSV). Still remembering the shameful 18-2 Mercy-rule-loss away in july in Worms, the Visitors took a 7-4 lead before the Sappers could came into the Game, that was interrupted by heavy rain several times. The first run for Dudelange was a Homerun to left Field by Pitcher Juan Godoy, starting the run for a very important win.



The Team from Dudelange egalized with a Double from Valenzuela, clearing the bases not earlier than in the 8th Inning: 10-10.



In the top half of the 9th they prevented Worms from scoring with 3 quick outs. In the bottom half it was Sam Vagnarelli, who brought home Fernando Diaz from 3rd Base with a Single: Walk Off !



The Game against Trier, scheduled for sunday the 17th september to play at the Stade Nosbaum in Dudelange, had to be postponed due to a lack of players for the Cardinals. New date is 1st october. The next Games for the Red Sappers are the BSFL Luxembourg Championship finals 2017 in Beckerich on 23th september, counting also for the Verbandsliga, where the Hedgehogs are situated in 2nd (6-2 wins) and Sappers in 3rd (6-3).